Florian Zoller
PhD student
E-Mail: florian.zoller@cup.lmu.de
Phone: 089-2180-77604
E3.002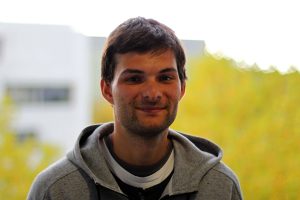 Publications:
Peter M. Zehetmaier*, Florian Zoller, Michael Beetz, Maximilian A. Plaß, Sebastian Häringer, Bernhard Böller, Markus Döblinger, Thomas Bein, Dina Fattakhova-Rohlfing, Nanocellulose-Mediated Transition of Lithium-Rich Pseudo-Quaternary Metal Oxide Nanoparticles into Lithium Nickel Cobalt Manganese Oxide (NCM) Nanostructures, ChemNanoMat 2020, 6, 618. [link]
Patrick R. Nimax*, Florian Zoller, Tobias Blockhaus, Teresa Küblböck, Dina Fattakhova-Rohlfing, Karlheinz Sünkel, An aminotetracyanocyclopentadienide system: light-induced formation of a thermally stable cyclopentadienyl radical New J. Chem. 2020, 44, 72-78 [link]
Yulia Arinicheva, Michael Wolff, Sandra Lobe, Christian Dellen, Dina Fattakhova-Rohlfing, Olivier Guillon, Daniel Böhm, Florian Zoller, Richard Schmuch, Jie Li, Martin Winter, Evan Adamczyk, Valérie Pralong, 10 – Ceramics for electrochemical storage, Editor(s): Olivier Guillon, In Elsevier Series on Advanced Ceramic Materials, Advanced Ceramics for Energy Conversion and Storage, Elsevier, 2020, Pages 549-709.
Florian Zoller*, D. Böhm, J. Luxa, M. Döblinger, Z. Sofer, D. Semenenko, T. Bein, D. Fattakhova-Rohlfing, Freestanding LiFe0.2Mn0.8PO4/rGO nanocomposites as high energy density fast charging cathodes for lithium-ion batteries, Materials Today Energy 2020, 16, 100416. [link]
Jan Luxa*, Daniel Bouša, Florian Zoller, Dina Fattakhova-Rohlfing, Zdeněk Sofer,
Black phosphorus–arsenic alloys for lithium ion batteries, FlatChem 2020, 19, 100143. [link]
Florian Zoller*, Jan Luxa*, Thomas Bein, Dina Fattakhova-Rohlfing, Daniel Bouša, Zdeněk Sofer Flexible freestanding MoS2-based Composite Paper for Energy Conversion and Storage, Beilstein J. Nanotechnol. 2019, 10, 1488–1496. [link]
Florian Zoller*, Daniel Böhm*, Thomas Bein, Dina Fattakhova-Rohlfing, Tin Oxide Based Nanomaterials and Their Application as Anodes in Lithium-Ion Batteries and Beyond, ChemSusChem. 2019, 12(18): 4140-4159. [link]
Peter M. Zehetmaier*, Arnaud Cornélis, Florian Zoller, Bernhard Böller, Andreas Wisnet, Markus Döblinger, Daniel Böhm, Thomas Bein, and Dina Fattakhova-Rohlfing, Nanosized Lithium-Rich Cobalt Oxide Particles and Their Transformation to Lithium Cobalt Oxide Cathodes with Optimized High-Rate Morphology, Chem. Mater. 2019, 31, 21, 8685-8694. [link]
Florian Zoller*, Kristina Peters, Peter M. Zehetmaier, Patrick Zeller, Markus Döblinger, Thomas Bein, Zdeněk Sofer, Dina Fattakhova‐Rohlfing, Making Ultrafast High‐Capacity Anodes for Lithium‐Ion Batteries via Antimony Doping of Nanosized Tin Oxide/Graphene Composites, Adv. Funct. Mater. 2018, 28, 1706529. [link]
Ning Liu*, Xuemei Zhou, Nhat Truong Nguyen, Kristina Peters, Florian Zoller, Imgon Hwang, Christopher Schneider, Matthias E. Mielich, Detlef Freitag, Karsten Meyer, Dina Fattakhova-Rohlfing, Patrik Schmuki,
Black Magic in Gray Titania: Noble‐Metal‐Free Photocatalytic H2 Evolution from Hydrogenated Anatase,
ChemSusChem, 2017, 10, 62-67. [link]
Julian Moegling, Andreas D. Benischke, Jeffrey M. Hammann, Nynke A. Vepřek, Florian Zoller, Bettina Rendenbach, Alexander Hoffmann, Holger Sievers, Michael Schuster, Paul Knochel, Sonja Herres‐Pawlis, Bis(pyrazolyl)methane Copper Complexes as Robust and Efficient Catalysts for Sonogashira Couplings, Eur. J. Org. Chem. 2015, 7475-7483. [link]